Rio's Wheel of Destiny Returns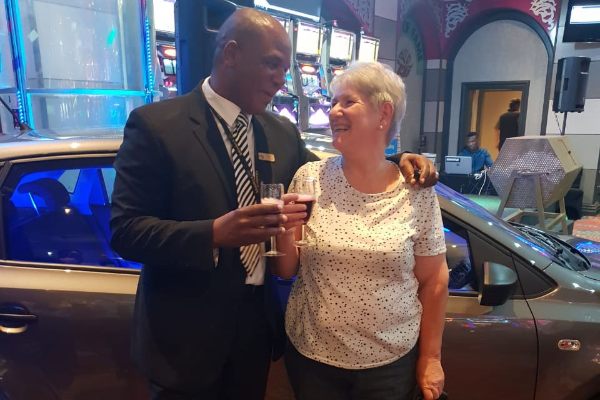 Wednesday, December 2, 2020
COVID-19 put a pause on many industries, including the casino and entertainment, changing the way we do business. With the holiday season looming under Level 1, consumers are slowly returning to normal habits, and Peermont's Rio Hotel, Casino Convention Resort in Klerksdorp is reinvigorating its Wheel of Destiny promotion which was unable to finish due to the hard lockdown earlier in the year.
'No one foresaw the hard lockdown coming this year, and a big disappointment was that we could not conclude our Wheel of Destiny promotion in March and give away a car,' says Rio General Manager Hennie Steenkamp. 'Car promotions are a big deal at Rio and is one of the ways we thank and reward our loyal players, so naturally we want to finish what we started.'
Wheel of Destiny kicks off on 3 December and has a prize pool of R15 000 in Cash and FreePlay to be given away in selected Saturday Draws at 19h00. The promotion climaxes with one lucky finalist winning a brand new Polo Vivo Trendline on 30 January 2021.
'We already had five finalists from earlier in the year which already qualified for the car draw, and we wanted to live up to that commitment,' says Rio Marketing Manager Mpho Mokoa. 'The rest of the finalists will be determined in our Saturday draws leading up to the final on 30 January. To be in the running, all you need to do is play Slots or Tables with your Winners Circle card.'
Selected weekly draws will happen on:
12 and 19 December 2020
2, 9 and 16 January 2021The Draw for the Polo Vivo Hatch 1.4 55kW Trendline will happen on 30 January 2021 at 19h00 and will be streamed live on their Facebook page (@RioResort).
In light of COVID-19 all health and safety protocols are in place at the North-West resort.
'We can assure our guests that all regulations are in place. We have screening at the entrance and all our slots and tables are sanitized regularly. Wearing a mask is compulsory and we also have sanitizing stations throughout the resort,' concludes Steenkamp.
For more information on the COVID-19 health and safety protocols for Rio Resort, visit https://bit.ly/2D1kWnH. Rio is a Peermont resort. Visit www.riocasino.co.za and connect with us on Facebook or Twitter.
Rio proudly supports the National Responsible Gambling Programme. Call the Problem Gambling Counselling Toll-Free Helpline on 0800 006 008 for support. Players must be 18 years or older. Winners know when to stop.
PICTURED:
Rio celebrates the grand prize giveaway of their Summer Cash Splash Draw in 2019 when Gertruida De La Rey won a Polo Vivo 1.4 Comfortline. Rio will be giving away another Polo Vivo in the return of Wheel of Destiny.
Corner of N12 & Rio Boulevard, Meiringspark, Klerksdorp, 2571