Rio Casino is open for business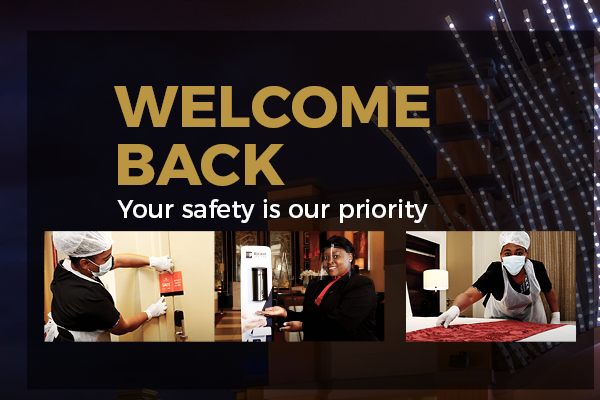 Monday, July 6, 2020
Rio Hotel, Casino and Convention Resort is open for business. Inspired by the passion, vibrance and colour of the Carnival in Rio de Janeiro, the Klerksdorp resort's reopening is in accordance with provisions as stipulated by the Department of Health (DOH) and World Health Organisation (WHO).
Precautionary measures include, wearing a face mask or shield at all times, daily temperature screening (if a temperature of 37.5ºC and higher is recorded, access will not be permitted), record keeping of guests at all entrances, thorough and regular cleaning of all areas and touch points, and the deployment of extra hand sanitiser dispensers to key public areas. The resort's gaming activities resumed with a limited number of players per tables game and alternate slot machines being disabled to ensure adherence to social distancing requirements. In order to effectively manage capacity, access to the various gaming areas is limited to Winners Circle loyalty members.
The three star select-services Peermont Metcourt hotel is open to business travellers and intra-provincial leisure travel, as per Government legislation. The breakfast buffet offering at the F.L.A.G. Café restaurant will be replaced by individually packaged food items and tables will be spaced out to adhere to social distancing. All hotel rooms will be deep cleaned with utmost care and hygienically sealed, with all non-essential, high touch-point items being removed. The Beef Baron Grillhouse is open for trade and offers a superior dining experience with the best steak and burgers. The conference venues and remaining leisure facilities will open in due course.
"We are excited to reopen and to welcome guests to Rio. Peace of mind remains paramount during these uncertain times, and that is why we have enforced a multi-layered set of protocols and procedures to ensure the well-being and safety of our guests. In addition, our employees have also been fully briefed and trained on best practices," comments Hennie Steenkamp, General Manager at the resort. As per legislation, guests are required to continue practising good hygiene, wear mandatory protective face masks or shields, and practise social distancing.
Rio proudly supports the National Responsible Gambling Programme. Call the Problem Gambling Counselling Toll-Free Helpline on 0800 006 008 for support. Players must be 18 years or older. Winners know when to stop.
For more information on the COVID-19 health and safety protocols for Peermont, visit https://bit.ly/2D1kWnH. Rio is a Peermont resort. For more information, visit www.riocasiono.co.za. Connect with Rio on Facebook and YouTube.
Corner of N12 & Rio Boulevard, Meiringspark, Klerksdorp, 2571