Rio Casino introduces innovative energy saving solution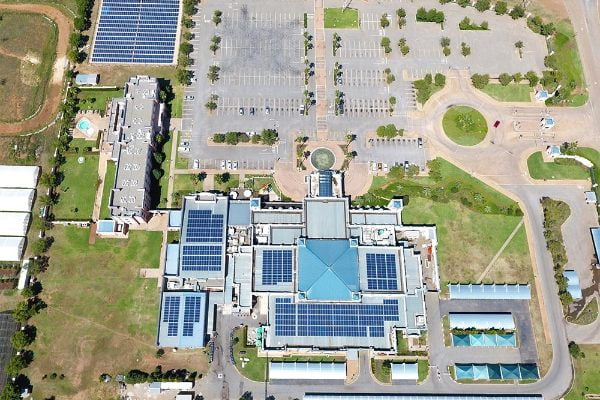 Sunday, April 14, 2019
Rio Hotel, Casino and Convention Resort is de'light'ed to announce the completion of a solar PV (photovoltaic) plant, the biggest plant of its kind in the gaming and hospitality industry in the Matlosana area. The impressive 431kWp grid-tiered solar power plant at the Klerksdorp-based property was initiated towards the end of 2018 and took just 2 months to complete. The plant was divided into a 198kWp ground-mounted system and a 233kWp roof mounted system. Completed by leading energy engineering solution provider, Terra Firma Solutions, the plant was designed to provide power for the entire resort. "Simply put, it means that Rio Casino can generate a substantial quota of its own power and alleviate its burden on the national power network significantly. To put it into perspective, the plant will generate enough power to provide electricity to approximately 200 residential houses," comments Hennie Steenkamp, Rio Casino's General Manager.
"We are thrilled to continue our engagement with the Peermont group and to contribute towards their drive in renewable, clean energy. Rio Casino is a landmark facility in the Matlosana community, and we are proud to be associated as solar PV market leaders," says Ed Gluckman, Managing Director of Terra Firma Solutions. The full system comprises of 1 305 Tier 1 solar modules and 9 inventers. At the busiest time of the day, the solar PV plant is capable of supplying the resort with 90% pure solar generated energy. And is expected to produce 710MW of power in its first year of operation alone.
"South Africa is still largely dependent on electricity generated by means of oil and coal, both of which add to greenhouse gas build-up in the environment. We all need to work on finding alternate energy-generating solutions for the sake of our environment, and we believe that this will be one of Rio's first steps towards a greener future," Steenkamp concludes.
Corner of N12 & Rio Boulevard, Meiringspark, Klerksdorp, 2571